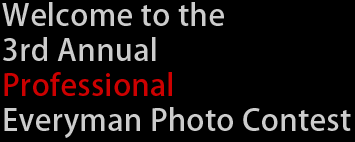 the everyman is not new to the photo contest game but it has historically been restricted to amateurs. but in continued support of the contest's growing popularity and diversity, the everyman is again opening its arms to professional photographers.
and this year, there are more prizes and more ways to enter.
as for the exposure you may expect by participating in the everyman pro, it is an affair with a world-wide audience. entrants, followers, and judges come from all over the planet which is important because the everyman is very much about diversity. diversity in age and style and interest and technique and opinion. the glue that holds it together and fosters consistent growth and evolution is a shared adoration for the captured image because this has proven to be the universal message all people can identify with.
you should find all the pertinent details below. if after reviewing the particulars you still have questions, they might be answered on the
questions page
. if you still have questions after that,

CATEGORIES & AWARDS
black &
white
landscape
nature
people
portrait
travel
architecture
macro
abstract
best in show
$1,000.00
1st place
$250.00
$250.00
$250.00
$250.00
$250.00
2nd place
$125.00
$125.00
$125.00
$125.00
$125.00
3rd place
$75.00
$75.00
$75.00
$75.00
$75.00

AWARD NOTES:
the best in show photo will be selected from the five first place winners.
the best in show award replaces the $250 first place award.
prizes are paid in u.s. currency via official check, cash or paypal.
prize money will be distributed by july 15, 2011.



entered photos will be evaluated by ten to twenty judges. the judges will be artistic professionals but, in everyman tradition, from a variety of disciplines (i.e. photo-journalists, art/photography teachers, graphic designers, and such).
any photographer is eligible to enter
international entrants are welcome
an entered photograph must have been taken and owned by the entrant
an entrant may enter as many images as they'd like to
a single entrant may win multiple awards
digital manipulations and adjustments are allowed
due to implications in the judging process, images may not be watermarked
image resolutions must be at least 1000px wide or tall, whichever is greater
the entry fee must be paid to secure your entry
images must be submitted by april 17th, 2011 but note that this contest is limited to 1500 images (your entry is not considered official until the entry fee is received)
by entering you retain all rights and ownership of your image. you are simply giving me permission to display your submitted image(s) on this site. for a more detailed description of this, visit the questions page.
2011 EVERYMAN PRO
JAN
FEB
MAR
APR
MAY
JUN
JULY 1st
submission window
(or until 1500 photos have been entered)
contest
prep
galleries open &
judging occurs
results
announced

a chance to win more than a $1,000 in prizes
the opportunity to be part of and/or recognized by one of the best known photography contest in the world
lifetime links to your personal or professional websites on a highly ranked, well trafficked, and photography-centric website (see below for further details)

a photograph of at least 1,000 pixels high or wide, whichever is greater.
to pay the entry fee (1 photo for $25, 2 photos for $40, 3 photos for $50)
to be one of the first 1,500 images submitted
an artist statement describing your photography (optional)
1 or 2 urls linking to your websites (optional)

EVERY ENTRANT GETS A PAGE LIKE THIS (sample to right) FOR EACH OF THEIR ENTERED PHOTOS
in the pro version of the everyman the prizes are higher. for this reason there is an entry fee. but to lessen the sting of an entry fee you get something in return: links. links to your website(s) where you sell and/or showcase your work. how this will play out is after the contest is judged and names are displayed with the photographs, you may include up to two links to your professional and/or personal sites so should people visiting the site like your work and want to make one of your prints their own, they can. additionally, you may include an artist statement defining your style or interest. both the links and artist statement are optional. as for their longevity they will be left in place for the life of this contest which is at the moment entering its tenth year. there is a sample gallery page to give a better sense of what visitors will see when viewing your work in the galleries.

did i mention this is one of the best known photo contest in the world. my main and consistent competitors have historically been national geographic and the smithsonian. in 2008, my amateur contest contained entries from more than 85 countries. your photos will be seen by many people keenly interested in photography so view the entry fee as a one time expense for a life-long advertisement on a highly trafficked and very specialized website that caters to a worldwide audience.

Sample Gallery Page

entry into the everyman happens online. after entering, you will have the ability to change any of your details and/or images right up to the close of the submission window (april 17th, 2011). so you can enter with one image or even no images and add them later which may not be a bad idea since i'm limiting this years image pool to 1,500 photographs. and that would obviously be the first paid 1,500.

Goto the Submission Page

would you like to judge the everyman? i'm always looking for fresh and diverse personalities to evaluate the affair. many folks enjoy the judging experience. are you one of them?

to learn more about becoming an everyman judge, view the judge's page.

want to stay abreast of contest happenings. you can sign up for the PRO mailing list. and this is different than the amateur mailing list.

you can sign up here.