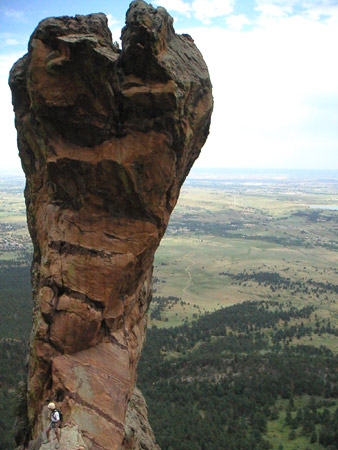 The Maiden
Chris Andrews (usa - co)
everyman 2003 - landscape and nature

---
The Flatirons present a bewildering maze of rock above and to the south of Boulder. Many famous rocks and routes grace this area. The First and Third Flatirons reign over downtown Boulder. A couple miles to the south, the Slab's squat mass dominates. Just north of Eldorado Canyon, the Devil's Thumb dominates the skyline. However, the true ruler of this area is the Maiden, unique among the Flatirons.

Viewed from the east, this crag is a nearly invisible blade of rock tucked in between other seemingly more substantial flatirons. However, while driving to Eldorado Canyon, the careful eye will discern the true nature of the Maiden. From the south, the Maiden is shaped like a dolphin leaping up the wave of the foothills. Climbers will immediately notice the imposing overhang on its west side as well as the vertical nature of its east ridge. No other summit in the Boulder area appears more improbable.

Up close, the effect is amplified rather than diminished. The east ridge terminates in the trees with a disturbingly narrow girth. The north and south faces are sheer, and the low angle west ridge terminates at a narrow vertical west face that leads to the amazing west overhang and the summit. Like Wyoming's Devils Tower and Utah's Ancient Art, the Maiden appears to be of otherworldly construction.

One of the highlights of any ascent of the Maiden is actually the descent. The rappel off the summit and over the West overhang is simply unbelievable. After completing this rappel for the first time, I couldn't believe that kind of excitement was both free and legal.