The Everyman believes that anyone who has ever taken pictures in their life, has taken good pictures. One of the primary differences between professionals and non-professionals is how reliably they can get the good shot. because, photography, like any art, is meant to capture a moment, convey a feeling, tell a story, it is erroneous to believe that in order for a photo to be effective or artistic it must have formal composition, ideal lighting or, and most importantly, be taken by a professional.

while i can appreciate the honed prowess of a skilled photographer, i also enjoy the work of amateur photogs. a great problem though is that adequate forums do not exist to showcase and reward the efforts of these less involved owners of cameras. professional photographers sometimes take bad pictures and occasional photographers sometimes take great pictures. The Everyman contest offers a space to showcase the work of the latter category.

have i mentioned yet that it doesn't cost anything to enter.

or that if your photo finishes in the top three of any of the categories you win cool, hard, american lucre.

i've tried to make this as easy as possible and am open to suggestions on how it could be improved, but truth told, would rather you used the time to send me a picture than your thoughts on how you would run a photo contest if you had a website, were bored and needed things to hang on the walls of your home.

for the true beginnings of the everyman, you can read this.

if you still have questions after that, they may possibly be answered here.

as for what you may have missed up until now, i invite you to check out the previous everyman winners:
2001 | 2002 | 2003 | 2004 | 2005 | 2006 | 2007 | 2008 | 2009 | 2010 | 2011 | 2012 | 2013 | 2014 | 2015




CATEGORIES & AWARDS
black &
white
landscape
nature
people
portrait
travel
architecture
macro
abstract
from
the attic
buddy james
best title
everyman
spirit award
first place
$50.00
$50.00
$50.00
$50.00
$50.00
$50.00
$50.00
$100.00
second place
$30.00
$30.00
$30.00
$30.00
$30.00
$30.00
n/a
n/a
third place
$20.00
$20.00
$20.00
$20.00
$20.00
$20.00
n/a
n/a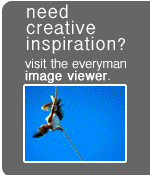 the From the Attic category includes photos taken more than 25 years ago. think pictures of your dad in the war, your family on vacation in orlando in 65, your grandparents as children on the steps of their neighborhood general store. for obvious reasons, you will not need to have taken the photo, but you should include the photographer's name, if known. if unsure of it's origin, mark it as uncertain. the same applies to the year it was taken. also, if you could include any details you know about the photo's origins or history. the only caveat here is the photo needs to have been taken by yourself, someone you know and can credit, or be owned by your family.

The Buddy James Best Title award was inspired by and is in honor of a 2002 entrant who raised the bar as for what is possible in titling an image.

The Everyman Spirit award came into existence, unexpectedly, in 2008 and is explained well enough where it debuted.

each entrant is only eligible for a single award per category.

in the event of a tie, both photographers will receive the full prize amount. it is possible that more than three spirit awards will be recognized. in such a case, each subsequent awardee will win $50.00.





All photos entered will be evaluated by a panel of at least fifteen judges from around the world, myself included. Of the judges, none are professional photographers nor are they trained in the ways of artistic presentation or composition. Each judge will simply select the photos that strike them most for whatever reason.

Limit of

TWO

submissions per person,

THREE

if one of them is entered into the

FROM THE ATTIC

category.
Each entrant is only eligible for a single award per category.
International entries are not only welcome but encouraged. it's not the every 'american', it's the everyman.
Photos previously entered into an everyman contest are not eligible.
send the highest quality image possible. It is much easier to make an image smaller than it is to make it bigger and i'd hate for the quality of anyone's image to affect the judging.
do not watermark or place any other distinguishing marks (i.e. name, copyright) on the image. because the judging is an anonymous affair, an image cannot possess identifiable information.
NO PROFESSIONALS! i define a professional as anyone who profits from their photography in any way other than photo contests.
NO PHOTOSHOPPING or other digital manipulation. this contest is about photography, not about one's expertise with a graphical application. This does not apply to photographic techniques contained within a camera's abilities (i.e. a manual shutter release used at night to capture fireworks or moving traffic). Nor does it apply to CROPPING an image. Because of varying darkroom techniques, this usually happens in some form anyway and is therefore allowed here.
NOTE: photos thought to be outside of the above criteria may be removed from consideration without the entrant being notified.
THE TIMELINE
Submission Deadline
Online Galleries Open
Results Announced
September 5, 2016
October 3, 2016
December 5, 2016
Winners will be contacted through email by January 16th, 2017 with details regarding awards.



please note: this year's contest will be limited to 2,500 images. images are entered on a first come, first in basis.

to submit images to the everyman contest, please visit THE SUBMISSION PAGE.




Note: By entering a photo to the Everyman Contest, you give the contest's sponsor, Troy DeArmitt, permission to post the submission on this website at the contest's conclusion or hang your photo in his home. He will satisfy any matting or framing requirements he deems appropriate in this presentation.

Header image by Danyang Wang (Pennsylvania) (2015 entry).